Ronald McDonald House, NYC
---
Our Chapter 517 has made Ronald McDonald House-NYC is one of the primary beneficiaries of our fundraising activities.
In addition to the money that we are able to donate each year, we also look forward to this annual visit.
The smiles on the faces of the children and their parents as they enjoy the food and the entertainment remind us why we became AHEPAns
---
Annual Ronald McDonald House - Greek Division, we serve dinner to the families and donate $2,500. its our 17th year

---

2016 Visit to Ronald McDonald House on Feb. 24 at 6 pm The Brothers of the Order of AHEPA Garden State CHAPTER 517 make an annual visit to Ronald McDonald House in New York City. This was our 15th year visiting the residents of this wonderful facility and to provide them freshly cooked meals and entertainment to children.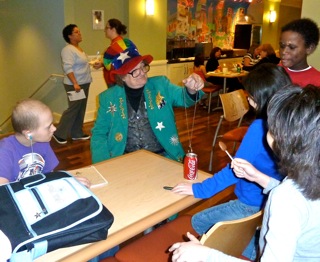 Ronald McDonald House provides housing for up to 65 families who are in need of a place to stay while their children are receiving medical treatment in area hospitals. The average stay for a family is 3 weeks but many families say much longer and sometimes have to return for follow up treatments for their children.

For over 30 years, Ms. Niki Sideris has chaired the Greek Division and has helped more than 10,000 Greek families.
---
For corrections, errors or ommissions, email webmaster